The Comfort of an Inn ~ The Hospitality of a Pub
The 1850 House Inn & Tavern website:
www.the1850house.com

435 Main Street, Rosendale, NY 12472 845.658.7800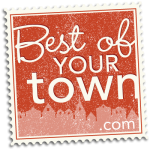 The Historic 1850 House Inn & Tavern in Rosendale, NY
The Comfort of an Inn ~ The Hospitality of a Pub The 1850 House Inn & Tavern would be recognizable to visitors of times past, not only by its brick exterior but also due to the loving preservation of the Inn's original old wood and brick in the nook-and-cranny filled floor plan.
Inside the ten guest rooms – which includes a two bedroom suite – await fine custom linens, large flat screens, WiFi and beverage coolers. Views of the Rondout River and of Main Street are accented by the carefully selected photographic enlargements that function as gigantic windows into the Rosendale.
The 1850 House Inn & Tavern is not your average B&B! Located just 90 miles from New York City, the Inn is readily accessible by car, train or bus and is at the center of Ulster County's historic places, arts, music, dance and easy access to hiking, biking, kayaking, and more.