Winner of Best Bagel in the Hudson Valley
New Paltz Bagel Cafe website:
newpaltzbagelcafe.com

Route 299, New Paltz Plaza, New Paltz, NY 12561 845.255.4594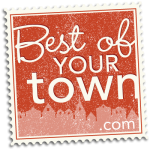 Do you want to start the day off right? Stop by New Paltz Bagel Café in the Stop & Shop Plaza and enjoy a fresh baked bagel.
Open 7 days a week.
You have to eat every day. So we are ready to feed you a scrumptious meal, every day. And to make sure it is the best, we bake it fresh, on premises, every day.
Winner of Best Bagel in the Hudson Valley. We work hard to make sure that you get a fresh, delicious bagel. This effort has been recognized by the Hudson Valley magazine. We have won the Best Bagel in the Hudson Valley for the last 8 years! Make sure you stop in to taste our award-winning bagels.
We are part of the community. Every day, no matter how good our planning, there are bagels that go unsold. We make every attempt to support our local community by donating these to local homeless shelters or food pantries.
Monday – Saturday: 6:00 am – 7:00 pm
Sunday: 6:00 am – 4:00 pm